Maximum Power Alkaline Cells: AA/AAA/C/D/9 Volts
| | |
| --- | --- |
| Model No.︰ | LR20,LR14,LR6 |
| Brand Name︰ | Your private label are accepted |
| Country of Origin︰ | China |
| Unit Price︰ | - |
| Minimum Order︰ | 120000 pc |
Alkaline Batteries ----- long lasting fun and entertainment.
As leading battery supplier ProMax offers you a complete range of alkaline batteries.

AAAA, AAA, AA, C, D and 9 Volt block (E-Block) in 2 cell or AAA and AA also in 4 cell user-friendly blisters are available.

The outstanding quality with long running time offer your customer perfect batteries for most consumer applications.

ProMax alkaline batteries for more fun and entertainment!
Specifications︰
Don't forget to think about long running batteries for electronic consumer devices.

With high performance power one alkaline batteries you offer your customers highest quality.

A complete assortment in customer friendly packagings serving all demands.

Advantages︰
a premium product for your customers

1)complete product range
2)alkaline system (higher performance versus zinc carbon / cloride systems)
3)retail oriented packaging concepts
4)sophisticated high quality battery décor

Export Markets︰
Worldwide
Pricing︰
N/A
Payment Details︰
T.T or L/C
Min Order︰
200Boxes
Ship Date︰
Within 20 days
Standard Met︰
IEC, EU RoHS
Product Image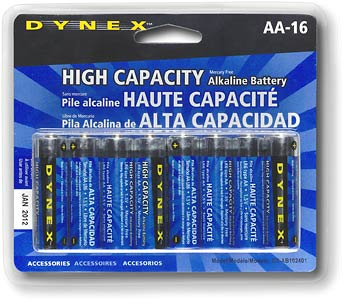 LR06, AA, Mignon
Related Products