The 4LR44 Battery is a 6-volt alkaline battery that is high power and non-rechargeable.
Some applications for the 4LR44 Battery are: camera photo equipment, glucometers, and medical equipment, electronic dog collars. garage door opener, pet containment system, remote controls, toys, pagers.
The 4LR44 Battery has a shelf-life of 3 years, so keep a few extra in your toolbox. Most alkaline 6V battery being used are manufactured in China, and since it might be distributed many different brand names, when you want a reliable and high quality 6V battery, be sure to buy from a reputable supplier!
Specifications︰
4LR44 Battery - 6V Alkaline

Battery Specifications:
•Model #: L1325/4LR44
•Voltage: 6 Volts
•Chemistry: Alkaline
•Dimension: 13.0 mm Dia x 25.2 mm H
•Capacity: 165 mAh
•Weight: 9.57g (0.34oz)
•Chemical System: Zinc-Manganese Dioxide (Zn/MnO 2)
Advantages︰
This 6-volt alkaline battery is primarily used to power photo equipment, garage door opener, glucometers, and medical equipment. Also compatible with some electronic dog collars & invisible fence systems. It's a 6 volt alkaline battery (non-rechargeable). The 4LR44 goes by several other model numbers or names, such as: the PX28a, the A544, and the L1325.

Also known as: PX28A, A544, 4LR44, K28A, V34PX, 7H34, 4NZ13, V4034PX, L1325, 4G13, 4034PX, PX28AB, 1414A.
Export Markets︰
worldwide
Pricing︰
N/A
Payment Details︰
T/T
Min Order︰
50000pcs
Ship Date︰
within 20 days
Standard Met︰
CE, EU RoHS
Product Image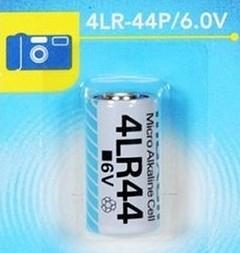 4LR44